Allow us to introduce you to
Probatum.
Probatum is a premium case management system that offers a simple, streamlined solution to community supervision.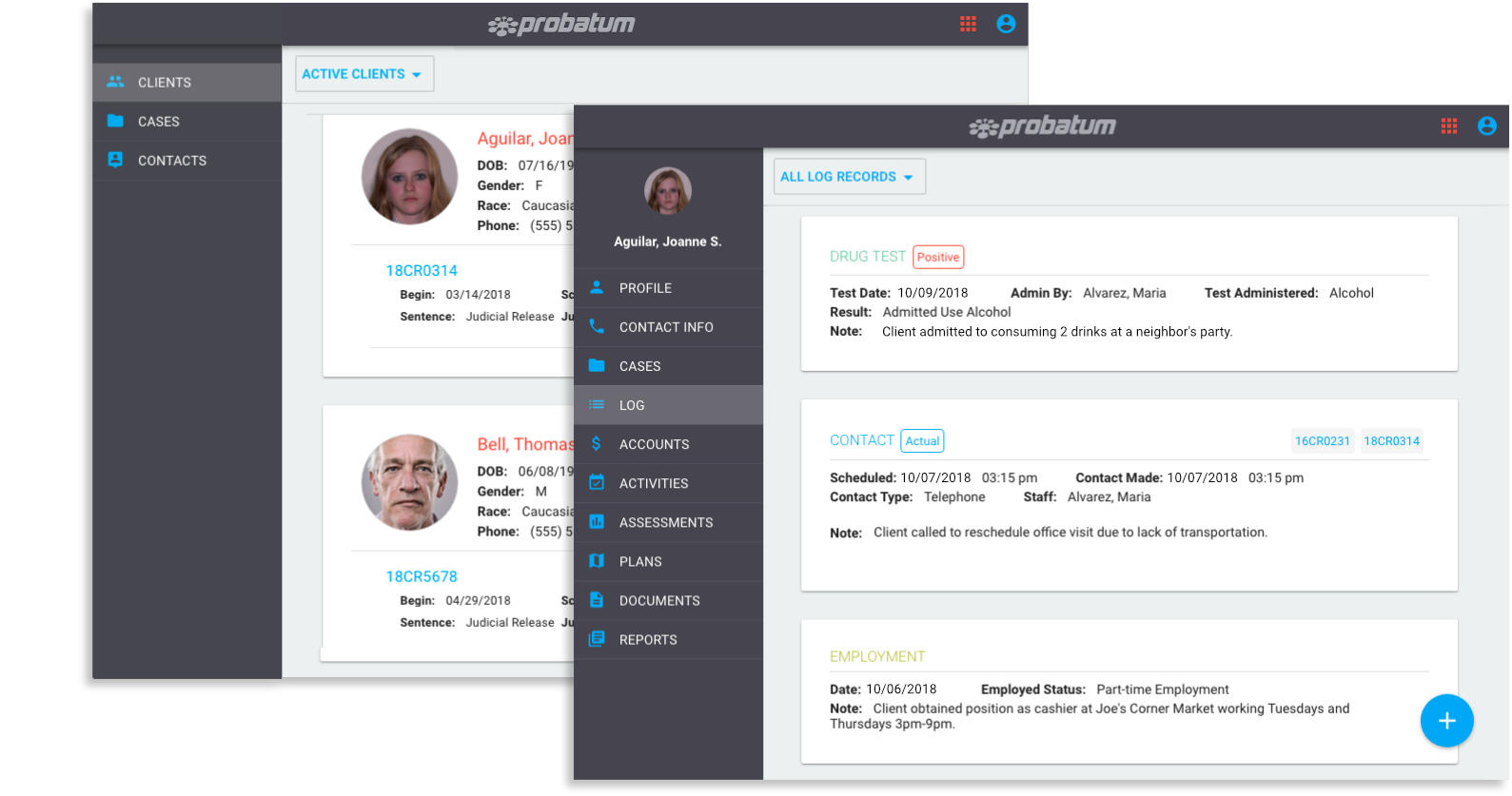 ---
Allow us to introduce you to
Probatum.
Probatum is a premium case management system that offers a simple, streamlined solution to community supervision.
Accessible From Anywhere
. . .
Access your case information in the office, court, home or other remote locations. Probatum is designed to work on a variety of screen sizes, so you can easily manage your caseload while on the go, using mobile devices.
Easy Rollout
. . .
Because Probatum runs in a web browser, rolling the system out to your agency is a breeze. The only requirement is a modern web browser. Reduce the need for IT infrastructure and save on staff costs.
Always Modern
. . .
Your Probatum subscription provides your agency with frequent bug fixes, updates and new features. Never worry about deploying updates to individual workstations; Probatum's continuous delivery model allows updates to be deployed to all users instantly and seamlessly.
Proven Reliability
. . .
Probatum Technologies, Inc. has been providing case management solutions to community corrections agencies and institutions for 20 years. Our experience delivering these solutions has allowed us to develop a solid platform for the benefit of all Probatum users.
---
Core Capabilities of Probatum
Probatum is loaded with all the features you need to manage your caseload...and then some.
Client and Case Processing
Efficiently manage clients and cases from intake to discharge using an intuitive, multi-platform case management system. Probatum's flexibility allows you easily integrate it into your case management workflow.
Event Tracking
Easily record staff notes, interviews, drug tests and other events. Probatum's group-entry feature allows staff to record events for multiple cases simultaneously.
Financial
Track fines, supervision and drug-testing fees within the case.
Case Planning
Create case plans directly in Probatum. Record targets, goals, and objectives and monitor plan progress.
Activity Tracking
Easily manage community service, dosage and other programs assigned by the court or associated with the case plan.
Reporting and Analytics
Reporting and analytics capabilities allow for comprehensive views of client demographic data, the caseload and agency performance.
File and Document Management
Probatum's simple content management system allows relevant case documents and photos to be attached and retained with the case. Create simple forms, letters and other documents without the need for a separate word processing program.
Case Sharing
With the click of a button, cases can be shared with partner organizations. Shared cases are accessible through the partner portal, where partners can record notes and interviews directly into Probatum relaying information concerning client participation and compliance with programs.
---
Subscriptions
With simple, affordable pricing that won't break the bank, Probatum is within reach of organizations of all sizes. Probatum is offered as a subscription service and does not require a large up-front purchase. Only the initial subscription fee is required to get Probatum up and running for your organization.
Additional Services
Community Partners
FREE access for partner organizations to record notes on shared clients is available via Probatum Partner portal. This service is included with every subscription.
Web Reporting
Recurring customized web surveys allow low-risk clients to report remotely. Survey responses are automatically submitted into Probatum for your review.

Contact us to learn more.
Data Conversion
As an optional service, Probatum Technologies, Inc. offers data conversion services to migrate existing case data into Probatum.

Contact us to learn more.
---
Want to give Probatum a try? Sign up for a
FREE

30-day trial.

Get your feet wet in Probatum at no cost. Usage scenario videos and accompanying PDFs are available in our documentation to demonstrate how to perform some basic functions in Probatum to help get you started.

For a more in depth look, access our full library of documentation and training videos to learn all there is to know about Probatum.

View Documentation
---
More from Probatum Technologies, Inc.
Looking for more
innovative technology?
CASANO is a social nudging platform for delivering behavioral intervention program content designed to train, equip, coach, encourage, reinforce, or deter behaviors leading to positive organizational or societal outcomes.